Latest News & Press Releases
News & Press Releases
Always keep up to date with the latest information from Worcester Presses.
News & Press Releases
Keep up to date with our latest developments by following us on Instagram, LinkedIn and Twitter.
blank
BPL Engineering Group turns up the volume with £1m Worcester Presses investment
A £1m investment in a new press line is helping one of the UK's leading sheet metalwork specialists diversify into larger projects and volumes.
BPL Engineering Group (BPL) has strengthened its strategic partnership with Worcester Presses by installing a 600-tonne Yeh Chiun hydraulic press – one of the largest it has ever commissioned.
The decision, which follows the resounding success of the 300t H-Frame press purchased four years ago, gives the Kings Norton-based firm access to a machine that offers an increased bed size (2500mmx1500mm), crucial for going after stampings destined for the automotive, aerospace, rail and other sectors.
Worcester Presses has also installed remote monitoring in addition to its industry-leading maintenance and service package, helping minimise downtime by providing swift and efficient diagnostics.
"Our expertise lies in supplying stampings and assemblies to OEMs like Jaguar Land Rover, Lotus and Aston Martin, ranging from prototype projects to production volumes," explained Matt Adams, Operations Director at BPL Engineering Group.
"This complete service has seen sales increase rapidly past £6m and this latest collaboration with Worcester Presses gives us additional capacity and a larger world class press to take on different types of work."
He continued: "The machine, which was installed as part of a three-month factory reconfiguration project, allows us to target larger stampings in various material grades, including aluminium, mild streel, structural steel, stainless steel, brass and copper."
Worcester Presses has experienced similar demand for its expertise, utilising its track record for developing long-term relationships with manufacturing sub-contractors across the UK.
Employing 14 people at its Crescent Park Industrial Estate site in Dudley, the company has seen sales for its range of hydraulic/mechanical presses and ancillary equipment rise by more than 50% since lockdown eased.
A large part of this growth has come from the firm's ability to 'bespoke' its standard equipment range to suit customer need and offering complete packages in a matter of months from initial order, not to mention its expansive spares and repairs service.
Russell Hartill, Managing Director of Worcester Presses, was delighted with the faith BPL Engineering Group has put in its capabilities.
"the 600-tonne Yeh Chiun is some press, delivering massive power, superb accuracy and repeatable quality, ideal for the type of work BPL Engineering Group specialise in and new projects it is starting to diversify into.
"Matt and his team had already seen the performance of the 300-tonne first-hand and recognised the potential a much larger press could give them, approaching our engineers to look at how we could tailor the machine to match specific requirements.
"This was all done in a matter of months and then we supported a major factory re-organisation to accommodate the new press, all whilst keeping the company supplying its domestic and international customer base."
BPL Engineering Group has invested heavily in its 25,000 sq ft facility on Catesby Park, offering customers access to toolmaking, press work, 5-axis laser cutting, fabrication, robotic welding, assembly and inspection services.
For further information, please visit: www.worcesterpresses.co.uk or www.biriminghamprototypes.co.uk
£250,000 'Worcester Presses' investment helps Cotmor move forward with ambitious expansion plans
Cotmor Tool & Presswork, which employs 16 people at its Brierley Hill factory, has seen sales soar to £2m following the easing of lockdown and is now setting its sights on an additional £1m of orders over the next 12 months.
The company has formed a strategic partnership with the nearby press supplier to capitalise on this growth and this has resulted in the installation of two 110 tonne and one 160 tonne Chin Fong machines.
Two state-of-the-art Tomac decoilers have also been introduced, in addition to Titan monitoring technology designed to improve tool and press life and a die cushion to help accommodate multi-functional tools.
"Volumes have bounced back stronger than any of us expected and this has given us the impetus to look at new equipment that will make us faster and give us capacity to take on up to £1m of new work," explained David Cotterill, who runs Cotmor with his wife Wendy and daughters Louise and Natalie.
"80% of our work is overseas and we ship deep drawn, precision and progression presswork to clients in Brazil, China, Germany, Japan, Turkey and South Korea. A lot of these components are technically difficult to produce and, since lockdown, we are seeing an increasing number of enquiries from firms looking to reshore to achieve security of supply."
He continued: "We knew we needed more capacity so started talking to Worcester Presses about our future requirements and the flexibility of the machines to be able to produce components destined for agriculture, commercial vehicle, foundry and the food and drink sector.
"After much discussion, we agreed on the robustness and durability of the Chin Fongs and the installation process and training were superb. Now the challenge is to win the work to fill them."
Worcester Presses has experienced a similar upturn in fortunes, seeing demand for its range of hydraulic and mechanical presses and ancillary equipment rise by 30% over the last six months.
The Dudley-based company, which has taken on an additional two people, has been working with Cotmor to deliver a tailored 'production' solution for about nine months, culminating in the installation of the three presses.
It is now exploring the possibility of sourcing a 400 tonne Chin Fong to give the press and toolmaking specialist access to one of its biggest machines to date.
Russell Hartill, Managing Director at Worcester Presses, went on to add: "The Cotmor partnership is a fantastic example of two Black Country businesses working together to deliver world class manufacturing.
"David and his team's expertise is second to none and, when this is combined with our technical knowledge and the performance of our presses, you have all the ingredients you need to be competitive and win work from overseas."
Louise Forrest, Financial Director at Cotmor, concluded: "We have been really impressed with the performance of the Chin Fongs and these presses are definitely up there with some of the best in the market for performance, durability and production flexibility."
For further information, please visit: www.worcesterpresses.co.uk or www.cotmor.co.uk
Sales milestone delivers a 10-year birthday present for Worcester Presses
Tuesday 14th January 2020
A Black Country manufacturing specialist is celebrating 10 years of supplying hydraulic presses in the UK by hitting a major sales milestone.
Worcester Presses, which employs 14 people at its works in Dudley, has recently installed its 50th hydraulic press into PAB (Coventry) to help it cope with an increase in orders from the automotive and aerospace sector.
The sheet metal and prototype experts have taken a Yeh Chiun 300 tonne H-Frame hydraulic press that is capable of delivering the precision accuracy crucial in producing pressings and metal grills that will be used in supercars and a host of Aston Martin models.
This latest install marks Worcester Presses' best ever year of hydraulic press sales, with this type of machine now accounting for 20 per cent of the firm's £2.2 million turnover.
New machine helps RSD press forward with £750,000 contract haul
Thursday March 15th 2018
Investment in a new state-of-the-art machine from Worcester Presses is helping a Cannock automotive supplier win over £750,000 of new contracts.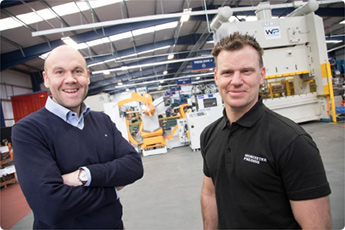 RSD Pressings, which supplies components for seats, sub-frames, cross car beams, bumpers and body, has installed a new GTX300 Chin Fong Progression Press and can now take on much bigger parts for tier 1 customers and major car manufacturers.
Nearly £350,000 has been spent on the machine and a Tomac TLN4 coil line, with more than £100,000 of funding secured from Stoke-on-Trent and Staffordshire Grants 4 Growth and the European Regional Development Fund.
Three new jobs have already been created as a result of the investment and a further eight will be recruited over the course of the next twelve months once production starts on the projects already secured.
"The components we manufacture at our new facility in Cannock end up in millions of cars all over the world, including Aston Martin, BMW, Jaguar Land Rover, Nissan and Volvo," explained Daniel Burton, Operations Director at RSD Pressings.
"We recognised the opportunity to expand our product offering by acquiring a press with a much bigger bed size and had been impressed with the reliability and performance of the OCP 260 tonne Chin Fong we purchased a few years ago."
He went on to add: "Worcester Presses came in, looked at our requirements and then developed a turnkey solution that involved the GTX 300, the latest HMI touch screen control and new Tomac TLN4 coil line that will increase our progression and coil feeding capabilities."
"This machine has doubled our bed size and has already led to several new orders that we wouldn't have been able to take on previously. There is still lots of capacity on it too, which means we are looking for even more new work."
RSD Pressings, which boasts annual sales of £5m and employs 50 people at its state-of-the-art facility on Gallan Park, has worked with Dudley-based Worcester Presses for more than five years.
The relationship has seen it purchase eight machines over that time and this understanding was key in the swift installation and commissioning of the GTX 300 and the subsequent training of three operators.
"This is a major investment for our business and we need to be able to know the company we are using will meet deadlines and deliver on after sales support," continued Daniel.
"Worcester Presses offers a fantastic service and maintenance package and we know that if there are any issues with the machine they will be dealt with quickly, meaning minimum downtime for the machine and no inconvenience for our customer."
Russell Hartill, Director of Worcester Presses, added his support: "The GTX is a state-of-the-art press in every sense of the word and offers fantastic performance, reliability and, with the large bed size, capacity.
"RSD is already reaping the benefits with three long-term contracts already secured and the potential of more to come. It's one of the region's best kept manufacturing secrets and we're delighted to be supporting the next stage of its growth."
Established in 1949, Worcester Presses has seen a 30% increase in sales over the last twelve months from customers involved in the automotive, aerospace, construction and medical sectors.
The Peartree Lane firm, which will be on stand H20-354 at MACH 2018, supplies a host of mechanical and hydraulic presses from Chin Fong and Yeh Chiun, as well a growing range of Tomac coil handling equipment.
As part of its expansion, it has recently recruited an additional service engineer, taking its total workforce to 14.
Sales growth helps Worcester press on with new home and identity
Thursday November 2nd 2017
Major demand from customers in automotive and white goods has helped a Black Country manufacturing specialist relocate, putting it on course for another record year.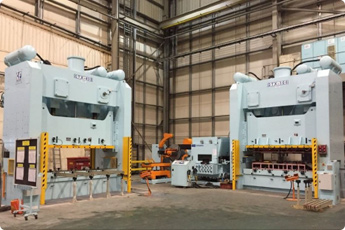 Worcester Presses, which provides a range of mechanical and hydraulic presses and coil processing equipment for clients all over the UK, has completed a move from its traditional home in Stourbridge to a more modern facility on Peartree Lane in Dudley.
The new site features built-in offices, central stores, a large machine shop and a dedicated 6000 sq ft engineering area that is supporting the firm's desire to offer more turnkey solutions on the equipment it supplies.
It marks a new era in the company's 68-year history, as the relocation has paved the way for a new corporate identity and the appointment of Ivan Littlewood as Engineering Director. He will be in charge of the management and control of Worcester Presses' engineers, including in-house manufacture, commissioning of new machines and servicing.
"2016 was a very good year for our business and that upward trend is continuing with the first eight months of 2017 delivering even more deals and the real possibility of achieving record breaking turnover," explained Charles Higgins, Director at Worcester Presses.
"Whilst some firms are understandably nervous about Brexit, we've seen nothing but growth since the vote, with this increase being driven by our traditional automotive customer base and emerging opportunities in white goods and the building trade."
He continued: "In particular, we are being asked to supply more turnkey machinery packages and that really drove our decision to move to the new factory in Dudley, which is better suited to adapting presses and coil handling equipment. Whilst only a few miles away, we have also seen a massive difference in transport times."
The mechanical Chin Fong range of presses is still the core of the Worcester Presses' business, closely followed by its growing range of Tomac Coil Handling equipment, Yeh Chiun hydraulic presses and press transfer equipment.
Employing 12 people in Dudley, the company has seen a 35% increase in sales for its Yeh Chiun range of hydraulic presses, offering both C Frame and straight side presses to customers involved in the metal forming and stamping industry.
As part of its desire to expand its offering, the firm has also signed an agreement with a press transfer system specialist to supply complete automation packages in the UK, providing clients with a way of streamlining labour intensive manufacturing applications.
Russell Hartill, Sales Director at Worcester Presses, went on to add: "Since 2015, we've probably grown by about 25%. When we sat down and looked at what was behind that it was clear that our customers were demanding more configurations from their machines and the ability to customise presses so they can carry out more complex operations.
"This was a key driver in our relocation as we needed more space, a higher roof and a layout that wasn't restricted by the confines of our previous site that was built in the 1800s."
He concluded: "Our product offering has also been strengthened with a series of new agreements. Not only can we offer our existing equipment – mechanical presses, hydraulic presses, decoilers, straighteners and servo roll feeders – but we are also now in a position to supply a fully automated press transfer line, with complete after sales support."
Worcester Presses has recently taken on an apprentice to assist in the electrical division and have plans in place to increase the workforce between now and the end of 2018.
Moseley Brothers head to Worcester with £500,000 press investment
Wednesday March 16th 2016
Tapping into the expertise and capabilities of a specialist press supplier has helped a Dudley manufacturer secure a string of new automotive wins.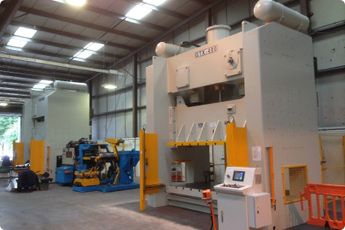 Moseley Brothers, a leading press tooling and production specialist, has invested more than £500,000 into the purchase of two large Chin Fong presses that will help it increase its capacity, speed and ability to take on orders for more complex components.
The company purchased the machines from Stourbridge-based Worcester Presses, who were able to specially configure the machines with bespoke guards, a large press bed and seamless integration into the existing Tomac coil handling line.
They are already producing various pressed components for several leading car manufacturers and it is anticipated that more than £1m of orders can be fulfilled every year on the 500 and 400 tonne presses.
John Hickman, Managing Director of Moseley Brothers, commented: "We moved to our new site in Dudley last year, as part of a £2.5m investment and recognised the need to update our press capability. Our relationship with Worcester goes back more than a decade, so we invited their technical team in to discuss our requirements and then present the best possible solution to meet those needs."
He continued: "The answer was two state-of-the-art Chin Fong presses, one a GTX-500 tonne and the other, a GTX-400. Both are straight-side double-crank presses, which have given us a significant increase in shut height (to 1000 mm) and bed width (3200mm).
"This has already reaped dividends with new contracts secured to supply larger automotive components. With our pipeline of presswork orders set to grow by 20% in the next 12 months, the increased speed and capacity we now boast is essential."
The Moseley Brothers investment has contributed to a record year for Worcester Presses, with turnover doubling to £2.8m in just twelve months.
At the heart of this growth is a commitment to delivering outstanding customer service and access to one of the largest ranges of mechanical and hydraulic presses and coil handling equipment in the UK.
"Companies come to us because of the quality of the presses we supply, whether they are our own, Chin Fong or Yeh Chiun. They also like our ability to tailor equipment to suit their specific
requirements and our attention to detail when it comes to installation and training staff to get the most out of their investment," explained Russell Hartill, Sales Director at Worcester Presses.
"We can also put in place preventative maintenance and servicing packages, so that equipment remains as effective as when it is first purchased and, in this particular instance, we offer Moseley
Brothers 24-hour breakdown cover to ensure any downtime is minimised."
Established in 1949, Worcester Presses will be on Stand 4564 at MACH 2016, as part of The Metalforming Machinery Makers Association's Metalworking Village.
Growth on the horizon as Worcester celebrates 65 years of excellence
Wednesday January 29th 2014
One of the UK's leading providers of mechanical and hydraulic presses is set to mark 65 years of manufacturing in Stourbridge by hitting £1.75m annual sales in 2014.
Worcester Presses, which employs 8 people at its Titan Works factory, has enjoyed a surge in demand for its range of machines, with strong growth currently being seen across key industry sectors, including automotive, aerospace and building products.
More than 26 presses – ranging in size from 3 to 3000 tonnes – were sold in the UK last year and this has seen turnover increase to over £1.5m, creating a job for the firm's first apprentice in more than two decades.
The company is hoping this figure will increase rapidly, with the MACH 2014 Show in April set to mark the unveiling of a new 60 tonne press, with quick die change and touch screen control.
"We're really proud of our Black Country roots and delighted to have been serving customers from our Stourbridge factory for more than 65 years," explained Russell Hartill, Sales Director at Worcester Presses.
"There have been a lot of changes over that time and we've had to evolve our product range to continue to be competitive and retain our market share."
He continued: "This has included the strategic relationships we've forged with Chin Fong and Yeh Chiun to supply their power presses and hydraulic presses in the UK.
"We are still manufacturing machines from our factory and also offering a full refurbishment and repair service and one of the most comprehensive spares stocks in the UK.
"The ability to respond quickly, often by having one of our experienced engineers on site within hours, is something many of our rivals can't match."
Operating from its 10,000 sq ft site, Worcester Presses provide access to a comprehensive range of power and hydraulic machines, covering bench, straight side double crank, c-frame hydraulic and servo presses.
The company also offers a host of coil handling and ancillary products and has the capability to configure feeders, decoilers, levelers, guards, quick die changes and other modifications to meet bespoke customer requirements.
Charles Higgins, who has been involved in the business for more than 30 years, continued: "2013 represented a major shift in purchasing attitudes from our customers.
"Our turnover was pretty much 90% power presses at the start of the year, but this has since changed to a much more even split across our three main product areas.
"The current high level of investment in automotive industry has generated a real demand for our machines from this sector, as the tier 1s and tier 2s are looking to really ramp up production to cope with OEM demands."
Charles concluded: "We're also investing in stock machines which will enhance our appearance at MACH 2014 and have got a new 60 tonne Chin Fong press to unveil."
Worcester presses the button on record year after major sales boom
Thursday February 4th 2016
A Stourbridge manufacturing specialist is celebrating the best twelve months in its 67-year history after turnover doubled to £2.8m.
Worcester Presses, which provides a range of mechanical and hydraulic presses and coil processing equipment from its Titan Works factory, sold more than 50 machines last year following strong growth in the UK's automotive, aerospace and construction sectors.
It even completed its first export order to the US in 2015, with a reconditioned high-speed press prepared and sent to a customer in Detroit for use in producing riveted aluminium parts.
Bosses at the firm have taken on five new staff to cope with the demand for its services and are looking for even further growth when it exhibits at MACH 2016 in April.
"We've never seen demand reach this level before, especially in such a short space of time. If you think we've more than doubled turnover, you begin to understand the scale of what we've achieved." explained Russell Hartill, Sales Director at Worcester Presses.
"There has been specific interest in our Chin Fong range of presses, with 27 sold since last January – most from stock due to faster deliveries. Demand has been for the hugely popular GTX range (offering variations from 160 to 500 tonnes) including four state-of-the-art models for nearby automotive suppliers."
He continued: "Sales of our hydraulic presses are also up 40% and investment in Tomac coil handling equipment has paid dividends with nine lines purchased as part of bespoke configurations."
Established in 1949, Worcester Presses will be on Stand 4564 at MACH 2016, as part of The Metalforming Machinery Makers Association's Metalworking Village.
close ^